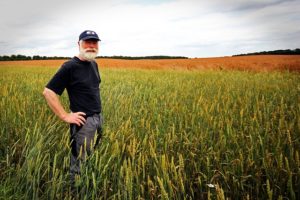 Back in June 1959, four farming friends met one morning for breakfast at a tiny diner in Marilla. They continued to meet when they could. It was an occasion to relax, pick each others' brains and talk shop.
Over the years the group grew from four to 12, to 15, 20 and so on. Now, more than 100 Western New York farmers are part of our team.
While our numbers have multiplied and our meeting spaces have grown, we remain the same tight-knit group as the one that went to breakfast together nearly 60 years ago. We take great pride in knowing each other personally. Many of our members vacation together and gather on the weekends for a cold beverage.
We take most pride in helping and supporting one another. If you've ever been a farmer, you know that it is tough work. You know that there are tough times. You know the early mornings and late nights.
You also know that farming is a rewarding profession. We do it because we love it. We do it to support our families.
Farm Team is your support system. We are stronger together.
Interested in joining our team? Find out how out.